Back when I was a kid, my friends and I felt certain we knew how martial arts movie star Bruce Lee died.
It was by Dim Mak, a kind of kung-fu death touch delt out by masters who were angry Lee was revealing their secrets on screen. That was our theory. It was nonsense of course, but American author Matthew Polly does address it in his very detailed book (616 pages) BRUCE LEE: A LIFE, published last year.
Author Matthew Polly https://mattpolly.com/ is a former Rhodes Scholar who spent two years studying Kung Fu at the Shaolin Temple in China (he wrote a best seller about that entitled AMERICAN SHAOLIN)
Bruce Lee's estate apparently does not like talking about his death. Polly speculates that's maybe because he died not at home as first reported, but in the nearby flat of his mistress, actor Betty Ting Pei, who is still alive today aged 72 and who was interviewed by Polly for the book.
Bruce Lee's cause of death is still shrouded in mystery to some degree, though many now agree it may have been an allergic reaction to a headache pill made worse by some underlying health issues related to the physical extremes of Lee's martial arts training.
Polly spent six months in Hong Kong researching his book and was worried at first no one would talk to him. But when film producer Raymond Chow (who died just 4 months after the book was published in 2018) and Betty Ting both agreed to talk, he knew he was on his way to being able to definitely chart Bruce Lee's life and times in meticulously researched worthy detail (included, if you can believe this, are a hundred pages of pithy and revelatory footnotes).
Bruce Lee was the poster boy for the little guy fighting (and winning) way above his weight. He weighed 64 kg during his Hollywood hey-day and stood 5 foot eight inches tall. I weigh 68 kg and stand five foot nine inches. I've always found a lot to like about him, though I wonder if millennials will even know who he is.
Then again, there's a Bruce Lee character getting screen time in Tarrantino's latest film ONCE UPON A TIME IN HOLLYWOOD so it might be a little hasty to suggest his enduring legacy has completely wearied just yet.
Naturally thirty-six year old Mike Moh (who is of Korean descent) knows a thing or two in real life about martial arts. He is a 5th degree blackbelt in Taekwondo and runs his own martial arts academy in Wisconsin, U.S. Mike Moh features in the soon to be released Chris Hemsworth film KILLERMAN.
This video has him talking about his role in Tarrantino's movie as well as showcasing some of his slammin' moves –
On a side note, apparently Bruce's daughter Shannon (who believes her late father could easily have beaten Muhammad Ali in a fight) isn't too happy about him being portrayed, in her words, as "some kind of arrogant obnoxious joke" in the movie. Click HERE to learn more on that-
Choosing a clip from one of Bruce Lee's films to include here turned out to be just too difficult. Iconic scenes from all seven of his most well-known films have been played literally to death over the years so I saw little point in repeating more of the same here. Instead you'll have to content yourselves with an almighty loop of his famous two-finger pushups.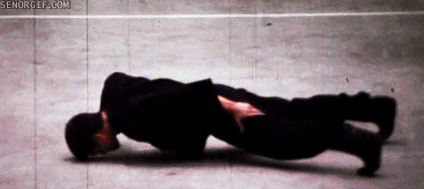 Ok then, if you insist…
So no-one can complain of leaving without their taste for chop-sockey inspired, stylized violence having been at least partially satisfied, I give you this little treat from Jason Statham (who has always cited Bruce Lee as his inspiration). What he does here with a fire-hose is highly…. unexpected painful creative effective?
And while things are still kinda on topic…
Click HERE for a review of a new movie – billed as a 'dark comedy' – THE ART OF SELF DEFENSE –
which in no way known should/could be mistaken for this animated offering going by the same name delivered by that lovable eccentric from yesteryear… GOOFY.
Ps. Last year, on these very pages, I published my list of all-time favorite martial arts movies. You may not have woken up this morning with a burning desire to see that list again, but while you're here, why not take a look-see HERE