Who's the master of YOUR house?
It's a worthwhile question to ask, with a perhaps not too obvious answer lying in wait – if you're ready to face the ugg muggs truth.
Until recently I've had the good sense to acknowledge, on a quite regular basis, that that title belonged, most assuredly, to my wife. In some circles a realisation as profound as that might even be mistaken for wisdom.
Yet recently I've come to question that belief.
See, when there's someone, or more precise to say SOMETHING in your home that commands you sit in front of it for a great many hours a day in a room set aside just for 'it', and can positively bring you and a sizeable portion of your functioning universe to its knees should it on a technical whim ever decide to, logic will dictate that sooner or later it will dawn on you who the real Tony Soprano in your midst actually is.
And when that day comes, if it hasn't come already, trust me – you will be on your way to coming to terms with what the scarey and spectacularly humbling true order of things may actually be.
Our LG computer is going on 13 years old. By some standards that should have had the good folk from Antiques Roadshow knocking on my door a while back. It got me thinking about how far these fandangled smart machines have come since ancient times (the 1950's).
Come see…
The true jaw-dropping impact of this photo begins to come into focus when you compare the behemoth on the forklift to today's USB portable flash drives (aka memory sticks) that are less than the size of a child's thumb.

The ones with the LEAST amount of data storage space on them, that you can commonly buy these days from stores like Officeworks is a 8 GB memory stick. That's GIGABYTES mind! Just a single gigabyte is equal to 1024 megabytes. And the piano-sized bit of kit in the picture could hold just five MEGABYTES – not GIGABYTES – of data.
Yep, it's pretty easy to get a laugh from old technology. The Apple Macintosh 512K definitely fits the bill now as old technology but the ad that was created to launch it is still considered a timeless classic.
Take a look back –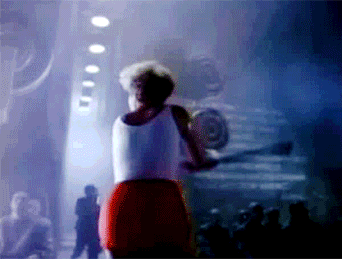 So what's the newest thing in the world of compunication and frankencomputers? IBM's latest supercomputer, named SUMMIT and capable of a processing speed of 200 petaflops (apparently that's like really, really good!) went sentient live in November of last year.
But most folk know the real cork-popping celebrations will be held off for the advent of quantum computers. If you think I'm going to attempt a technical explanation of precisely how quantum computing will be the mother of all game-changers (the digital world's equivalent of a cold fusion type technology breakthrough, if you will) you're going to have to now sit there for a full minute in all your wrongness while someone else explains it –
There are plenty of much longer explanations plying their trade on the internet unpacking what quantum computing is and how it works but I'm pretty confident you won't come across another one this concise.
And if the cartoon above is anything to go by, it's pretty clear who, or better said 'what' will be wearing the pants in everyone's home and workplace in the next decade to an even greater extent than is already the situation now.
Don't say you weren't warned…
Ps. I attended a book launch last weekend at my local library. WOLFHEART: MOONLIGHT'S PROPHECY is a 40 000+ word novel written by eleven year old local author Georgia Bowditch.
It features flowing, beautiful prose in a story about two wolves fighting for the survival of their group, known as the Spirit Pack. It is a truly stunning debut for a prodigious young writer embarking on what will no doubt be an astonishing and fun-filled literary odyssey. Watch this space.